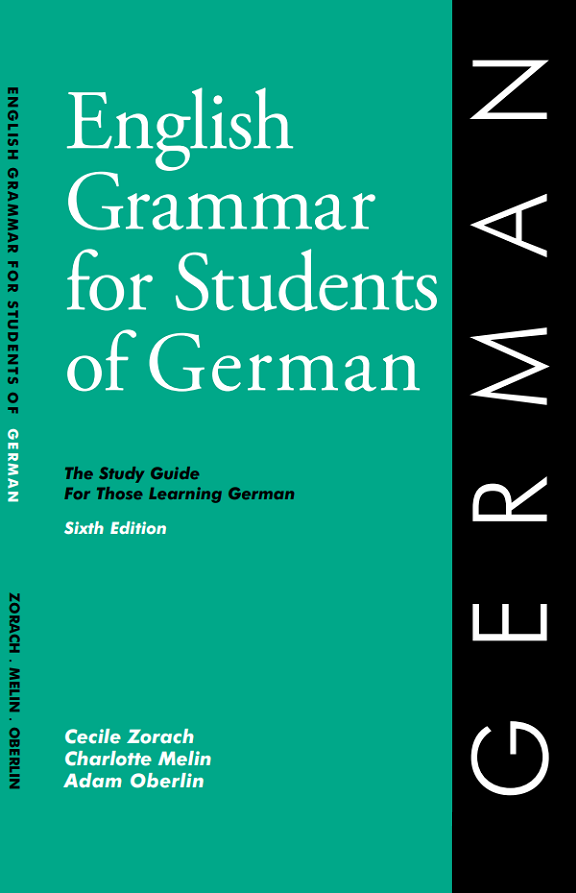 Learn German with a proven method designed for English speakers
Step by step analysis: How to go from English to German structure
One grammar point per chapter
Ease to consult as a reference
Compatible with all major textbooks
Study tips on how to memorize German vocabulary and verbs
Examples, examples, examples
"This a must-buy, must-read book for students of German at all levels"
—Tom Conner, Professor of Modern Languages and Literatures, St. Norbert College
" This text could come to the rescue of many beginning German students."
—Die Unterichtspraxis
"We have been looking for such a book for years."
—Dr. Belinda Carstens, University of California, Davis
a self-study guide that helps you come prepared to German class
step-by-step examples
To show you how to get from an English structure to the equivalent German structure.
All the essentials
Straightforward lessons that focus more on the rules than the exceptions.  Covers the grammar taught in beginning college courses.
Study Tips
Tips to help you learn German vocabulary and word forms, and to remember them.
one point per chapter
In each bite-sized lesson, authors Cecile Zorach, Charlotte Melin and Adam Oberlin explain one grammar concept and illustrates it with English and German examples.
Explained in English
To help you learn the grammar from the point of view of a language you already speak.
Review Booklet
Check your understanding by completing the review questions.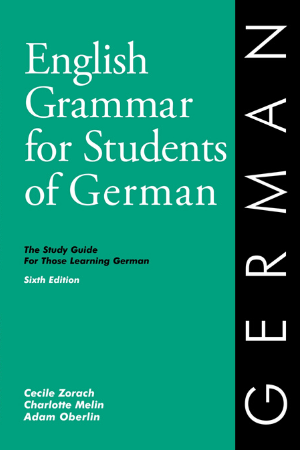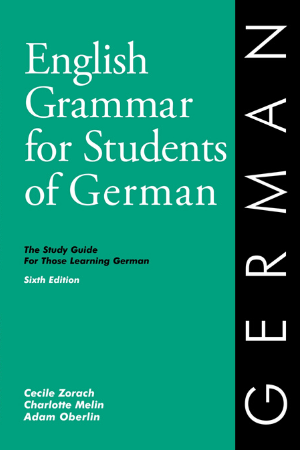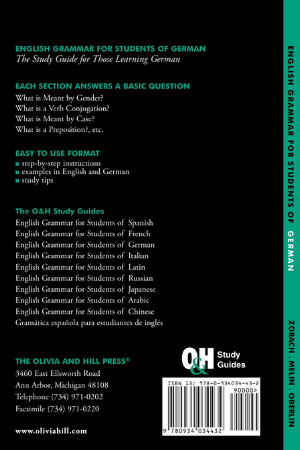 Learn The Grammar Terms Your Textbook Assumes You Know
Learn how to identify English and German nouns, verbs, adjectives, prepositions.
Learn how to identify English and German subjects, direct and indirect objects.
Learn the explanation of conjugation, case, declension, and agreement.
Learn how to get from an English structure
to an equivalent German structure. Our examples will take you every step of the way.
Book Reviews
NECTFL Review
No. 77, January 2016
"English Grammar for Students of German is a superb introduction to the intricacies of German grammar, which students of German at any level will find extremely useful."
Chris Abraham
President of Abraham Harrison LLC
"If your eyes are crossing from your German lessons . . . and you're having an impossible time sorting out German grammar, there's light at the end of the tunnel . . . an amazingly good investment."
Peterson Reviews
"The contrast illuminates both languages. English Grammar for Students of German is a fascinating book. It compares and contrasts English and German grammar, point by point, making it easier to understand the grammar of each language."